Fire. Red Hot. Energy. You would think so many things could be tied to this challenge: reds/oranges/yellows, the sun, flames, romantic red roses, red hearts, etc. Yet, I had so much trouble coming up with something. I am in a Halloween mood and I wanted to put a witch's cauldron over some flames but it didn't look the way it had in my mind. I could do red and white Christmas to get the red for fire, but I'm not truly in a Christmas mood yet.

I do play an online game called World of Warcraft. One of my characters picks herbs to make potions. One of the herbs is called "firebloom". Sounds cool right? So I made one. I love challenges. They force me to think more creatively and inspire me to get off my butt and do something! I've been meaning to make a new bookmark card for my shop for some time but never could find the right design. So, I decided to use this challenge to make a different kind of bookmark card to get me out of my slump.

And it worked.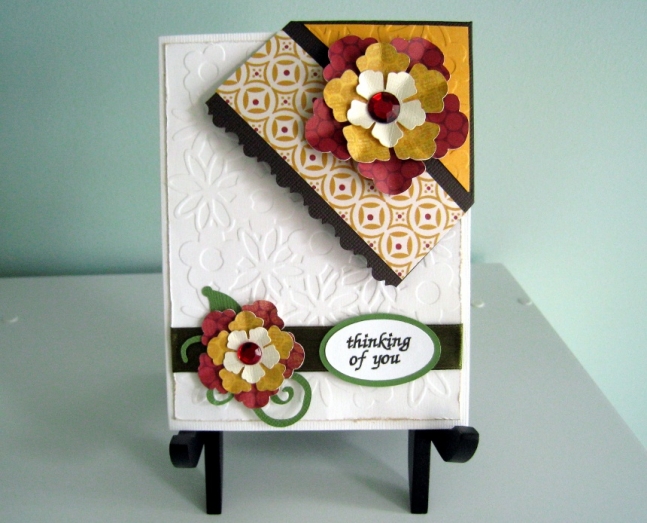 My firebloom is a paper die cut flower that I drew on the computer with triangles and ovals that I manipulated in to this shape. I layered three sizes of red, gold, and pale yellow and put a red rhinestone in the centre. The bookmark has a pocket at the back that fits over the corner of a few pages in a book. It is slipped over the corner of the card for giving but slides right off for use. As with all my bookmark cards, I wouldn't want the card to be bereft of design once the bookmark is removed, so I put a smaller version of the firebloom on the card itself with the sentiment.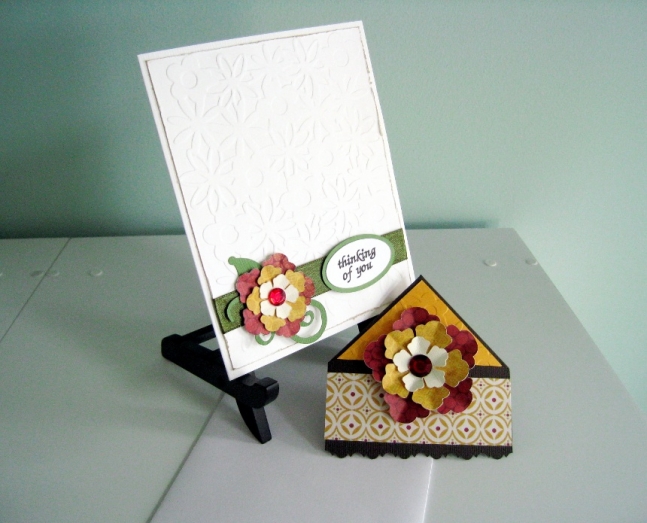 Embossing is one of my favourite things to do. It adds so much texture without adding any bulk. There is a small patch of embossed paper on the bookmark and the whole card front is embossed with flowers. The edges have been distressed and inked for a touch of old world charm.

Fire. Fire and Water are the two great purifiers. Funny that these two opposites would have the same symbolic purpose. Water cleanses gently. Fire cleanses harshly. Fire is vibrant and energetic while water is considered calm and placid. I guess that's why I struggled with this challenge! I am a water sign in the zodiac after all. Fire is my nemesis but I admit that is captivating, almost hypnotic at times. Isn't it? Well, I suppose it's true then: opposites attract!