Hello everyone!

In my newest mermaid bikini that I have added to my shop I used Crochet Scale Stitch. Well, I have found that a lot of people become fascinated with this stitch and was eager to learn how it is achieved.

I am a self taught crocheter by way of crochet books, but I have also found a lot of help with Youtube videos and I want to share one with you that will describe how to achieve the stitch better than I can as it will be visual for you.
Traditionally this stitch is called the "crocodile stitch", but in my work I tend to use it as mermaid or dragon scales. It can also be used to represent leaves, which is also fantastic! Even though this stitch looks complicated, it is actually rather simple and only uses the double crochet stitch and chain stitch.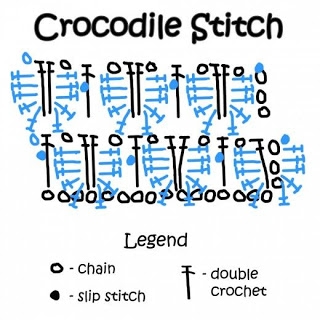 I also rather love the above diagram, if you are a visual learner like I am. However, I find that the video helps you work through the steps better since this is a layered stitch and can be more complicated.
If you have any further problems or questions, feel free to comment and I will help you out!