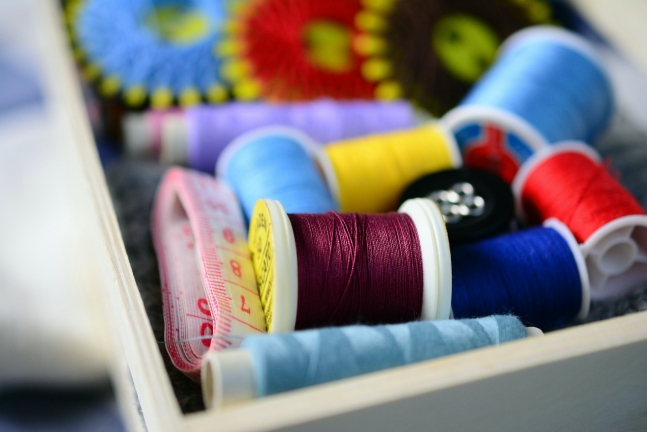 Yesterday I decided it was time to get a new sewing box. I recently bought a new sewing machine and sewing tools but for some odd reason I could not part ways with my old sewing box. I'm not sure why. Perhaps I am getting sentimental in my old age? Afterall, my little raggedy sewing box has been with me for a little over 30 years. The sewing box was slowly but surely falling apart so badly that its edges were being held together by duct tape. But I think there is more to this than a few years tugging at my heart. I believe that I could not part ways because this little box held more than just sewing tools, it held memories of various items that I made for myself, my family and friends.
Every time I had an opportunity to buy a new sewing box, I hesitated and made up a dozen reasons as to why this was not the right time. A few times I came very close to making a purchase ( I even had the new sewing box in my cart), but as I got closer and closer to the checkout register, I would turn my cart around and replace the item back on the self. So why now? I really don't have an answer to that other than that it felt like this time was the right time.
On a recent trip with my husband we stopped into an antique shop (he was being a good sport…lol) and as I was browsing, I saw it. In the back of the store corner were various sewing tools and most importantly, sewing boxes. I'm guessing that these boxes dated back to the 1950s but were in excellent condition. Now anyone who really knows me knows that I love antique and/or vintage items. There is something about an antique or vintage item that has stood the test of time. Maybe I am associating this with having a strong will or character…hmm. Anyway, I anxiously grabbed my new/old sewing box and made it all the way to the cash register and completed the purchased! As we drove back home, I thought to myself, I really feel happy about this decision.
My new/old sewing box sits proudly on top of my craft table ready to help me tackle my many sewing projects. Now for the real test of strength. Could I, should I finally say goodbye to my old friend? My inside voice said, yes. But before I headed to the recycling trash can, I took one last picture of the raggedy little sewing box. I felt a great sense of relief as I realized I will always have wonderful memories of my old sewing box and a keepsake picture too. Here's to the New Year and to creating new memories!😊
Happy New Year!!