There are plenty of charitable causes that accept well-made, hand made greeting cards to spread hope, cheer, and joy. Two that immediately sping to mind are Operation Write Home, which collects cards to send to soldiers deployed overseas for them to use to write home, and Kards for Kids, which collects cards for the nurses at Toronto's Hospital for Sick Children to distribute to the children in their care.
I'm part of the Smiley Team for Kards for Kids. We run card drive challenges throughout the year and there are prizes. For every 5 hand made cards of a theme that you make and send to the Kards for Kids co-ordinator, you earn a ballot for the prize draw(s). The current challenge we have for the month of May is May Monsters! Having three young nephews, I thought I could really have fun with this challenge.
So, I took to the design program for my electronic die cutting machine and I designed a couple of monsters. Monsters can be any shape, no matter how funky or simple, right? Here's what I came up with: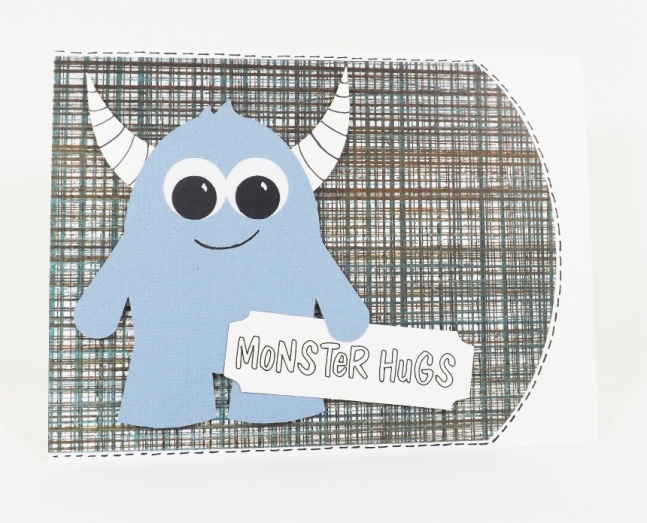 This two-eyed monster delivers monster hugs to children.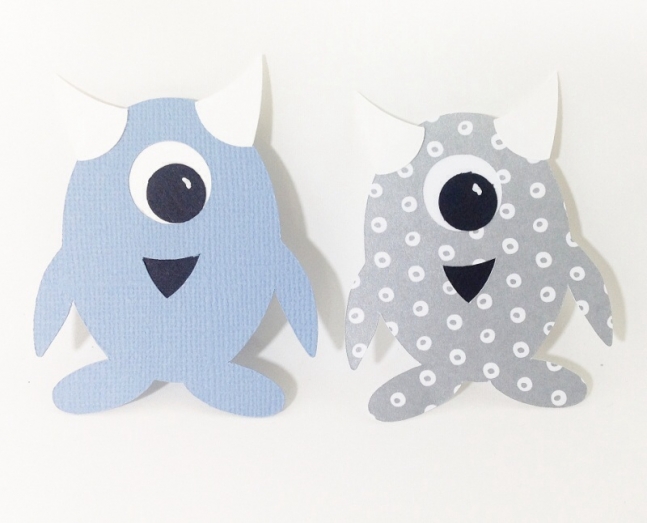 And these one-eyed monsters will deliver Monster Birthday Wishes. (Plus, I can make them in to aliens by changing the sentiment and swapping out horns for attennae!)
If you are not the designing type, try using rubber stamp images. There are plenty of monster images, and fun-loving alien ones that could pass as monsters. All you need to do is colour! I have done some that way as well. For example, my sister had coloured and cut out this three-eyed monster for me (probably a year ago) and I never found the occasion to use it (because it's girly and there are no little girls in the family.) So, when this challenge came along, I had the perfect use for it and turned it into a hand made children's birthday card for Kards for Kids, along with my little one-eyed friends.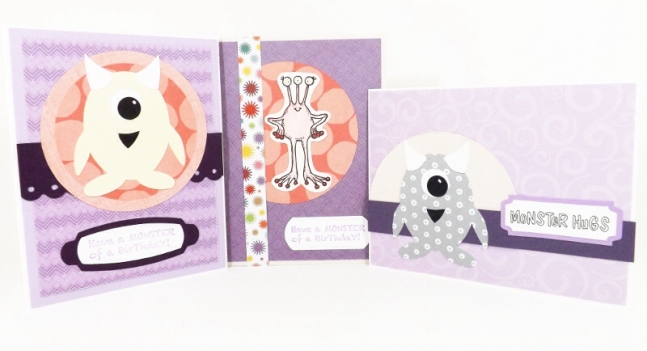 You can never have too many hand made cards on hand! You can always donate them to charitable causes. For one of our past challenges, one person even had a card making session with her classroom and generated a whole box of cards for the Kids! You can have a party too and just have fun colouring and creating and then send off the cards to spread smiles where they are needed most.
Join us at Kards for Kids! Or look around your community: consider retirement or nursing homes, women's or children's shelters, or Ronald McDonald House. The whole purpose to hand made greeting cards is to show a person that someone cares about them. We all have moments when we need to feel it more than others!