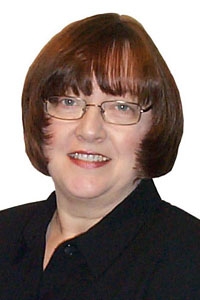 With a "day job" in marketing, Linda Harrell is very busy and designing jewelry is her way of "relaxing". Although her career has filled her days, it was not enough to fulfill her desire to create. About four years ago, she decided to follow her heart by starting her own brand of handmade jewelry, which she named GalleriaLinda.

Growing up within the artistic community of Purdue University, she learned how to "stretch her creativity to the edge". Starting with the raw design element, the bead, she likes to create the unexpected in color, shape and texture in her designs which she sells exclusively here in her Creator Exhibit GalleriaLinda.

Besides her GalleriaLinda jewelry line, she also sells vintage jewelry in another online shop named GalleriaLindaLoft - http://www.zibbet.com/gallerialinda (iCraft is only for handmade) and shares her marketing expertise in the iCraft Marketing forum, Blog Central and her IndieCEO marketing blog.


Linda, thank you for giving us your time and sharing your thoughts.
Please introduce yourself to our readers.

I am an independent jewelry designer and lover of vintage jewelry as well and have been selling online for several years. GalleriaLinda is my handmade jewelry brand sold exclusively on icraftgifts.com/gallerialinda. I recently started shops with vintage jewelry called GalleriaLindaLoft. Then, there are the destash bead shops! You might say I am an online shop junkie but I have enjoyed every minute. Since I work full time, this is what I do to have fun.


Is there a story behind your business name GalleriaLinda?

Yes there is and I do get asked that a lot! As a young girl, I lived in Brazil, where Portuguese is spoken. "Galleria" means "Gallery" and, "Linda" means "Beautiful". Therefore, GalleriaLinda really means "Beautiful Gallery" with a play on my name.


How would you describe your iCraft Creator Exhibit? Does it have a theme? How do you decide which items to put in your shop?

The theme is beaded and silver wire jewelry and all my creations go into this shop.

When I create jewelry, I literally cannot wait to get it listed. I think it is that "looky look everyone!" feeling I have to show everyone what I made! The flow of completed jewelry designs just naturally flows into the shop listings. Sometimes I will hold a piece if I plan to make complementary pieces specific to it so I can list them together. But really, with iCraft's feature of free renewing, we can all easily get our matching and complementary pieces sitting-side by-side with just a click.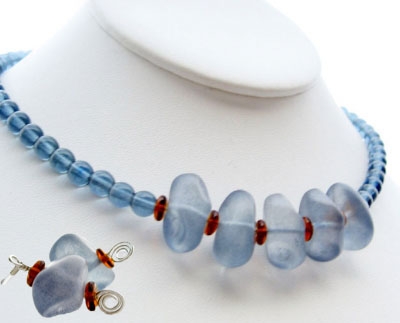 Most artists start creating at an early age, as you did. What influenced you to make the move from casual to professional design?

In college years ago, I wanted so badly to take jewelry design - casting of metals. My dad was a professor, very practical, and felt I needed a "real" career that I could fall back on and actually make a living. I did stick to a creative major in commercial interior design and was able to take certain fine art electives (but no jewelry courses). So, here I am after years of several corporate creative jobs. About four years ago I just needed to let loose the vision of my design perspective so I started to be serious about designing jewelry.


How did growing up close to Purdue University and its artistic community influence you?

My experience growing up in a university environment was a ying and yang type of thing. On the one hand, Purdue is a top engineering and technology school - very left brained. On the other hand, the liberal arts part of Purdue was very free flowing, allowing for new ideas, techniques, and stretching creativity to the edge - very right brained. This left and right brain experience actually has done well for me in my careers, as I am able to be creative in the workplace but yet, understand and manage the business end of the process.


How does your degree in Interior Design help you in the creative process when designing jewelry?

It is my opinion that design is design. It is a basic understanding of how the collaboration of shapes, textures, color hues, and dimensions can create pleasure to the eye. That is all design is - producing something pleasing. It may be functional or it may not but it is still pleasing. Sometimes it is balanced and sometimes it is purposefully unbalanced or crazy off-the-wall, but whatever it is, it delights the senses.

My commercial interior design experience allowed me to study the architectural greats, such as Frank Lloyd Wright, Louis Sullivan, Mies van der Rohe, Philip Johnson (who actually designed several downtown buildings in Chicago where I worked at the time), and others. In West Lafayette, Indiana (USA) where Purdue University is located, there were quite a few homes and commercial structures by Wright and Sullivan. They all had minimalist perspectives but created distinctly different and exciting structures with balance and surprises. I think that is really the core of my design influence.


Why did you choose to stay with the traditional materials such as sterling wire, Swarovski crystal, pearls and gemstones when creating your designs?

With a quirky design perspective, I like unexpected surprises in design. Taking traditional materials and shaking it up a bit can produce a contemporary look.

For example, one crazy piece I designed has rough large carved soapstone focal beads with beautiful, soft, traditional, gray Swarovski pearls and bronze/iris Czech glass facet sparkle spacers. I don't think many would think to use those together but when worn, it looks fabulous!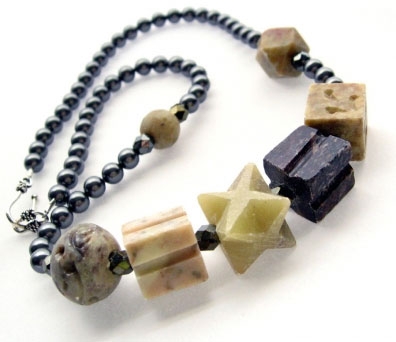 How would you describe your style? What makes your work unique?

I like to think the majority of my designs are "contemporary" or "modern" in feel. Sleek, modernist, minimalist is really where I want to go with this and I am not quite there yet. I think our design visions are really a journey rather than a destination - it will evolve. Many will not particularly like my designs, however others do because it is unusual. Sometimes my color combinations are just a bit different. I am not afraid of color!


Staying fresh and creative is difficult sometimes. Where do you look for your inspiration?

Since I do work a day job, I find that stress or pressure will usurp my creativity. When that happens, I step back and carve out time for myself to decompress. It may take a couple of weeks to accomplish that clearing out the schedule but it is a needed step on so many levels. In the past, I have also given myself permission to step away from the studio part of my life for a short while.

I am very inspired by just browsing all kinds and all eras of jewelry everywhere - not to copy but to soak in techniques and unique shapes. Vintage parts from broken jewelry sometimes spark an idea or even a vintage button.


What are the steps to your creative process? Would you like to share any techniques or tips with our readers?

My design process is very haphazard er....organic! Rooting through boxes and drawers of beads is where it all starts. Certain beads will catch my eye at that moment and that will be my theme in color, shape, or texture for that design session.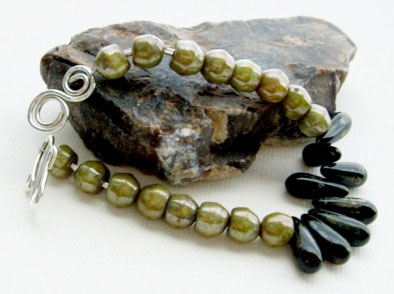 Other times, I will have on my table certain fabulous beads that I MUST work with and they sit there until the perfect collection of colors and textures are gathered to complement them. That can take weeks or a year. I had one set of vintage beads on my table for almost a year until I had the "aha!" moment! You can't rush creativity and you can't push an artist to create on demand.


What has been your favorite work so far and why?

I like to use vintage items sometimes in my designs, but not in the typical way. I love this necklace and it looks fabulous with many colors. It is a vintage pendant that is hand painted on black and surrounded by gold tone filigree. Pretty girly - right? I paired it with huge Hematite barrel beads and soft grey Swarovski pearls, accented by gold pearls. It is a strong design that incorporates that minimalist look but with filigree vintage. Pretty neat!


How does your job as a strategic marketing communications consultant
help you market your designs - online and off?

My job, although in marketing, hinders as much as it helps! Time is the enemy to taking my jewelry to the next level. However, my knowledge of marketing for small businesses keeps the learning curve to a minimum. I know what I need to do but I just don't have the time or budget. It is a circle of effects - promote - get sales - set aside budget - take promotion to next level - and so on.


How has the internet helped your creative process?

Oh, I can only say that I LOVE to surf through jewelry shops and Google's images and appreciate all those designs that I cannot or don't do. There are so many talented artists and jewelry designers that it is like going to a high-end art fair on a whim. I absorb inspiration through that process.

The Internet also is a fabulous university of all things. Tutorials and videos have helped a lot along the way.

In addition, through my blogs, I receive quite a few emails from other artists and designers. These relationships sometimes become close as we have a common interest and can share ideas and resources.


Can you suggest any books, tutorials or videos that will help the beginner in your choice of medium?

I have found some really well done videos and tutorials along the way. I am an information junkie too and keep URLs and links to important information like this. The IndieCEO marketing blog I write encourages artists and crafters to email me, which they do, and I often offer encouragement and information to my fellow artists. I will say that online suppliers often have great tutorials on art techniques whether it is jewelry making or polymer clay. Here are some links that have very good tutorials. There are so many others online: Jatayu - http://conniefox.com/Education/Education.htm, Beaducation - http://www.beaducation.com/how_to/all_videos.


Do you have any general advise for artists just getting started?

Follow your dream but above all, be realistic. If you don't know how to be realistic, find someone to be realistic for you while you create. Find a mentor. One of the hardest things for creative people to do is to think of themselves as "artists." That is because what we do is so much a part of us that we take it for granted. But our talent is appreciated by those who cannot do what we do and we have to realize that. To encourage all new sellers of handmade - you ARE an artist, artisan, designer, or professional crafter now. Embrace it!

All photos for this article were provided by Linda Harrell © 2010.