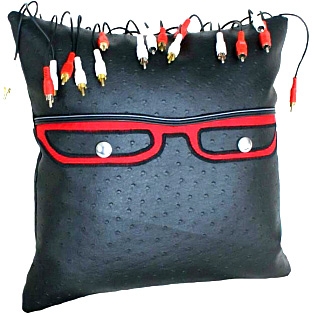 It is so exciting to see someone like my GEEK guys as much as I do. Super Geek was featured today at MyShoppingConnection.com! It says ...

"Get your geek on with this decidedly nerdy pillow from PillowThrowDecor.

The Geek Pillow is part of the Luxe and Found Collection, which focuses on eco-chic pillow designs that utilize remnants, upcycled materials and other "throwaway" items.

This cute little guy is made with faux leather fabric and A/V cables, and you can purchase pillow inserts made with Ecofill luxury fiber fill (formerly PET bottles) separately. $69 from PillowThrowDecor"

I am just about finished Super Geek's family which includes Little Sis Maddie, Mom, Dad, Grampa and a really nerdy older sister. these guys all have so much character I swear they can talk!