What are Product Sets?
Product Sets allow sellers to pair up matching products, offer additional discounts to their customers and encourage sales of multiple products.

Things you need to know before you start creating sets:
You can add up to 4 items to a single product set.

You can place the

same

product in multiple product sets. In this the

case

your customers will have a choice of sets presented to them on the product pages.

Our system will flag all products that are part of a set in the shopping bag (even if products were added individually, and not as a set), and display the discount that customers will be getting by purchasing that set.




Currently, we are not combining discounts, so coupons will not apply to discounted items, including those purchased as a set.



Creating New Sets
To create a new product set or to view your existing sets, go to Product Sets page under "My Account". (requires login).
This page is also accessible from the left nav.

Click on "Add New Product Set" button on the right to create a new set.

On the next page, give your set a name (this will not be shown to the public), choose what discounts you want to apply to this set, choose up to 4 products from a drop-down, specify when you want your set to expire and choose a status - "Live" means your set will become visible on your product pages right away and "On Hold" means it will remain hidden, so you could keep editing it without anyone seeing it..

Here is what your buyers will see on the product page, once you create a set and set its status to "Live".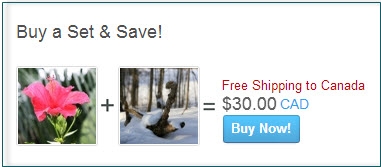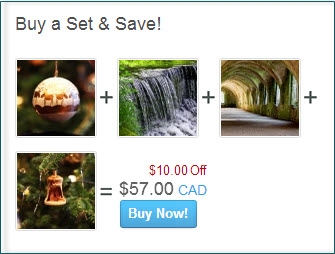 Your customers can click on "Buy Now!" button to purchase a set or by adding individual products to their shopping bag one by one.