What are the Social Feeds and why do I need one?
Our Social Feeds feature is an advanced promotional tool that allows you to set up multiple automatic updates from iCraft to your social media accounts (requires login).
You can post updates about your products, your blog posts and other selective updates from iCraft to your social media accounts, as soon as they happen on iCraft.
Currently, we support updates to Pinterest, Twitter, and Facebook only.
Here are the updates that you can choose from.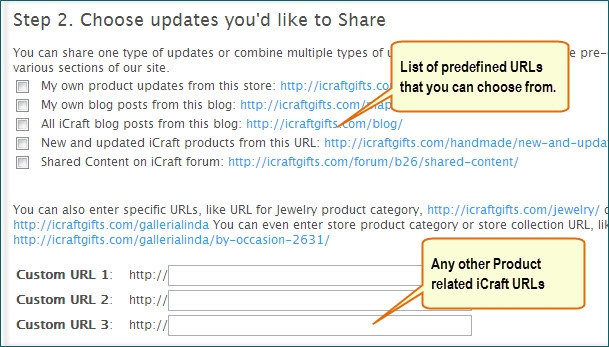 We don't post anything to your social media accounts, unless you specified it on this step.
Just be careful which updates you choose. Remember, you can always, stop, edit or delete social feeds, if you change your mind later.
Why would you want to set up any of those feeds?
Well, store updates are the obvious choice - whenever you post new products or make updates to your existing product pages - change price, place them on sale or update a photo - our system will automatically post links to those products to your Pinterest, Twitter and/or Facebook page. You wouldn't have to do it manually.
Same applies to your blog posts.
Some people also set up feeds for products from other stores, if they want to help out other crafters and to get more exposure for their own store. By being a part of a group that tweets updates for others, you are increasing the chances of getting more exposure in social media, and ultimately, getting more traffic to your pages.
You might also want to set up feeds for our Blog to provide fresh content on your own Blog or to your followers on social media sites that would appreciate arts & crafts related updates.