How to add Blog Author info to your Google + profile for Improved Search Results
When you blog on iCraftGifts.com Blog, we let Google know who is the author of each blog post published there.
We do that by passing to Google your Google + profile URL, specified in your iCraft Blog Profile.

If you haven't mentioned your Google + profile there yet, please do so by copying and pasting your Google + profile ID, asshowed below.



In addition to this, you also need to upload your personal photo to your Google + Profile and specify that you are a Contributor to iCraftGifts.com Blog. You can do that by adding your iCraft Blog URL in the Contributor section.

First,login to your Google + account.
Then click on "Edit Profile" link and scroll down to the "Contributor to" section. Click anywhere within that space.

You will then see a pop-up window, where you could specify your iCraftGifts.com Blog URL.
Click on "Add custom link", or the pencil icon on the right if you need to edit existing links.

Your iCraftGifts.com Blog URL would look like this: https://icraftgifts.com/felicia/blog/





Once you add Blog Details, click on"Save" button.
You should now see iCraftGifts.comBlog listed under your Google + Contributors section.





This information allows Google to connect your iCraft Blog and your Google + account.

Please note that there will be a delay (up to a few days) before you will see your photo in Google search results. This is due to the fact that Google robots have to visit iCraft blog pages and update Google database with this new info.

Here is the example of how Google will display your iCraft blog posts on Google search results.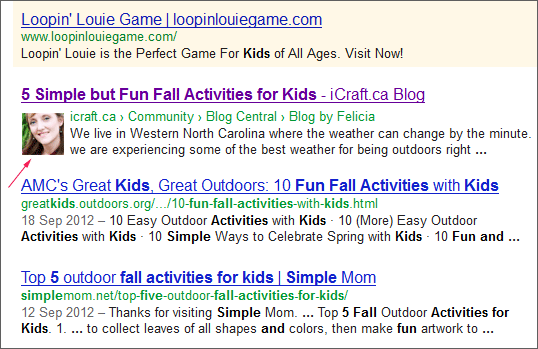 As you can see, there is now your photo showing beside your post, andiIn some cases, Google also displayes a link to your Google + profile and the number of people in your circles.
Chances are, you were drawn to the result with the photo, even if that wasn't the first result in the list!
People are more likely to click on links associated with author images and profiles than those without. In fact, tests showed that search results with photos increased click-through rate to pages by 20-30%.