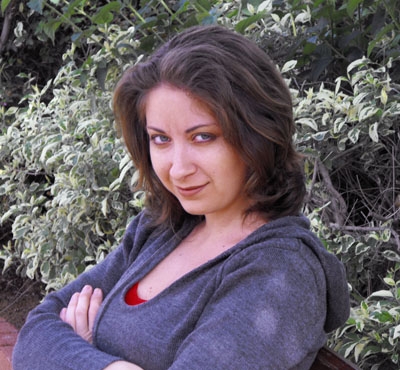 Julia Goland is a 28 year old artist living in Israel with her husband and daughter, Alice. As a child, Julia got her start in jewelry design when she bravely unstrung her great-grandmother's antique pearl necklace. Although her mother was a bit upset at the time, Julia's first bracelet and necklace creation was the start of something that would continue throughout her lifetime.

Experimentation is what makes Julia's art so unique. Working mostly in leather to create her beautiful jewelry, she is always trying various combinations of recycled materials to complete each piece. Her unique approach and attention to detail have become her artistic signature.

Besides her Creator Exhibit "Julishland" on iCraft, you can see her amazing work on Etsy, deviantART, DaWanda and Bonanzle.

How did you get started designing jewelry in leather?

I experimented with different crafts while I was pregnant. At that time, I tried a variety of techniques and materials including beaded jewelry, polymer clay jewelry and home decor items. I experimented with various materials and techniques, eventually deciding on leather.


Why did you choose leather as your art medium?

Leather helps me to realize all my wild and unusual ideas. I "feel" this material very well. Over time, I learned more about leather and discovered my own techniques for combining different types of leather.

There is a lot of different techniques when you work with leather including burning, painting, and even roasting or boiling.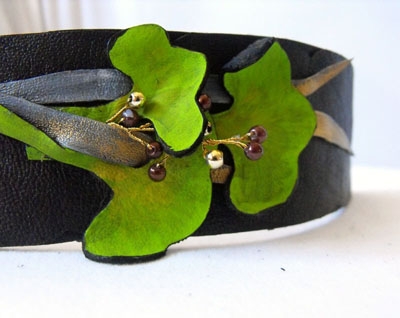 Are you self-taught?

I'm self-taught, but I read a lot of literature related to design and jewelry history.


How would you describe your style?

My style varies greatly. It depends upon my customer's request, my current mood, current season and more…


What makes your work unique?

I don't know if my works are unique, but I would like to believe that my ideas, knowledge and experience make my work a little bit different and recognizable.



Where do you get your inspiration?
Nature is the best source of inspiration.

What are the steps to your creative process?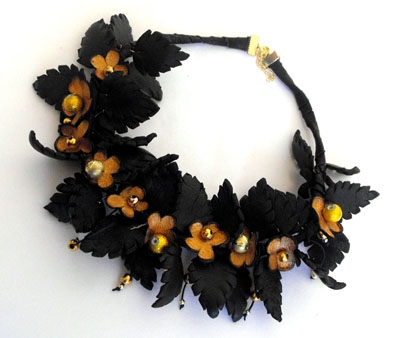 In brief: idea - sketch - material matching - realization. But sometimes, I skip the "sketch" step.

What has been your favorite work so far and why?
My favorite work is always the latest one, because I have just put a little piece of my soul into this work.

How do you market your art – online and off?
Mainly, online.

How has the internet helped your business?
I try to take advantage of the internet for online sales, advertising, promos etc.

Do you have any general advise for artists just getting started?
Don't give up ever!

Julia, thank you for giving us your time and sharing your thoughts.