In early fall of this year, I was hand-sewing a felt piece and chatting online with my friend Deana. She complained that she HATES sewing stuff by hand. That amused me because Deana is a fantastic embroidery artist. She will happily and lovingly stitch gorgeous hand embroidered pieces for hours.
Then I got to thinking. I enjoy hand-sewing – maybe I should give embroidery a try.
Thus began my newfound passion for stitched art.
Embroidery has seen a HUGE surge in popularity over the past few years. Gone (mostly) are the delicate floral napkins and monogrammed hankies, and in their place are modern and chic embroidery designs. From owls to 50s pinup girls, gnomes and fairies to spooky skulls there are designs to suit anybody. I was so surprised to not see ANY hand embroidered art here on
iCraftGifts.com
. I know there are many talented stitch artists out there, and many more who have yet to discover the love of the hoop.
Hand embroidery is the new yoga. It is really such a calming activity. The whole world fades away as you focus on the needle going in and out of the fabric, each stitch helping to paint a picture. You can stitch on the bus, on the sofa while watching the news, or even in bed if you so choose (and I frequently do!). You don't need expensive equipment or materials. A simple embroidery hoop will only cost a buck or two, embroidery floss is around thirty cents per skein, and a pack of embroidery needles will run you another dollar or two. Fabric to stitch on is EVERYWHERE! I use mostly thrifted fabrics but I will occasionally "splurge" on a fat quarter of a fun pattern for a background. Pillowcases and napkins are common bases, but consider stitching a design onto a tote bag, scarf, jeans or even a lampshade! Once you start stitching, you see everything as a blank canvas.
Free hand embroidery designs can be found all over the internet, and there are hundreds of talented artists who create patterns for sale. Coloring pages are also fantastic for stitching. Unlike machine embroidery where you need to have a fancy digitized file, with hand embroidery all you need is an outline. If you can doodle, you can stitch it!
My first 2 embroidered pieces were classic nudes that I googled. My third (and still most popular) piece was a fun portrait of Albert Einstein. I adapted an image I found online, played around with it a bit, and stitched away.
Ol' Albert here shows how unique you can make your pieces by combining different types of threads in one piece.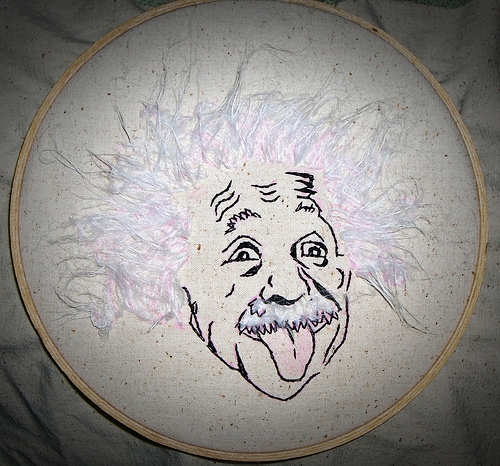 I have also hand stitched a portrait of George Carlin for a friend, and embroidered a few commercial, vintage, and original patterns since then.
I will be posting a few of my own original hand embroidery designs here for anybody to try – for free! I would love to see some of you take up this fantastic classic-turned-modern art form.